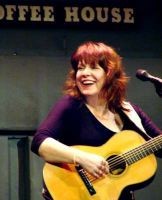 Caren Armstrong
Award winning Singer/Songwriter Caren Armstrong has been making "big buoyant music" since the tender age of ten years old. This dangerously honest, wickedly funny, and disarmingly vulnerable songwriter is "one of those rare musicians who plays and sings music from its bones on out. Caren's work has a visceral and deeply satisfying impact, which is invariably garnished with great good humor." Steve Coyle, The Waybacks.
She was awarded top honors at the Emerging Songwriter Showcase at the Napa Valley Music Festival, and the 15th Annual Songwriting Competition at the Tucson Folk Festival, and has been a finalist at the Rocky Mt. Folk's Fest and the Wildflower Music and Arts Festival. She is a member of Folk Alliance and was a featured showcase artist at the First Annual FARWest Folk Alliance conference in October 2004. The petite redhead's soaring vocals, sophisticated guitar chops and dynamic performances have endeared her to fans nationwide. Bay Area concert promoter Russ Jennings notes: "Caren has found a deeply original voice that the listener experiences as coming from within."
Born on a hot July afternoon in Dallas, Texas, raised on the sunny beaches of Southern California, Caren Armstrong taught herself to play guitar at age ten, started teaching at a local music store when she was 13 years old, and sang for a trio led by West Coast jazz stalwart, the late Gene Leis. At home in virtually any musical milieu, Armstrong has opened for The Beach Boys, Nanci Griffith, Lee Ann Womack and toured with Dan Hicks as one of the Hot Licks. These days Caren lives in Oakland, CA when she is home. In addition to her busy touring schedule, she has hosted monthly songwriter showcases at The Sweetwater (Mill Valley, CA) and at Strings (Oakland, CA). She is currently hosting her showcase, "Celebrating Songwriters" at the Larkspur Caf Theatre in Marin County. She is in high demand as a private guitar teacher. Caren has produced albums for artists such as the new acoustic string band Calavaras, art-folkie Lori B, as well as for Bay Area songwriters Rachel Garlin and Ilene Adar. Armstrong is endorsed by Santa Cruz Guitars and by Elixir Strings.
Her playing style references folk, country, blues, jazz, traditional and popular music yet is distinctively her own. Running the emotional gambit, she entices her listeners to explore their own inner landscapes "with a striking efficiency and fusion of melody and lyrics." Valerie Fasimpaur, Rambles Review. Written with a sharp yet compassionate pen, Armstrong's songs transcend the self-revelatory and speak universally to the human condition. They are, as Grammy winner Steve Seskin put it: "Songs about real life performed with passion and precision."
Visit caren's Web Page